How to Extend the Value of Your Next Leadership Training Contract
Mar 08, 2017
If you have been consulting for a while, more than likely you have been asked to design and deliver a leadership training program. If your proposal only included options around the training experience, you are leaving a great deal of value on the table for you...and your client.
When it comes to developing leaders - training is often necessary but rarely sufficient. To transform leadership performance back on the job, your development initiative needs to have four components:
Leadership Performance Expectations: These are explicit guidences what leaders need to DO with their employees on a day-to-day basis. These performance expectations work alongside competencies and define for leaders what their employees need them to DO everyday to empower them to do their jobs and go above and beyond. It is essential that these behaviors are customized to each company and employee base because not all employees want or need the same type of leadership. Armed with this clarity on what matters most to employees, leaders are able to know how exactly what to do when interacting their direct reports.
Skills Enhancement: Training does have a role but that role is only in the transfer of knowledge and skills essential to delivering on THESE performance expectations. Therefore, "off-the-shelf" training should be more aptly called "hit or miss" training. To really hit the mark, training has to be customized to each company.
Supportive Work Environment: Leaders need to be empowered to deliver on the performance expectations and use their new skills. They need the TIME to focus on leadership, which means their workload needs to be adjusted to alleviate their administrative and operational burdens. They also need modeling and resources from their leaders. They need the budget to effectively recognize employees and to provide equitable workloads. They can't make magic happen for their employees without having tangible and adequate financial and human resources.
Measurement: If leaders are trained to do "x" and rewarded for doing to "y", they will do "y." The key ingredient to sustainable results is to align performance management, rewards and promotion decisions to the leadership performance expectations.
Therefore, contracting to only deliver the training experience isn't going to create the return that your client really wants...and needs. And as importantly, again, you are leaving value on the table. So here's a few tips to extend the value of your next leadership development contract:
When your future clients asks for your help with a leadership training program, don't ask questions about how many participants, how many days or even the learning objectives. Pivot the conversation to discuss what behavior change your client is wanting to see in the leaders and how that will translate to tangible business performance outcomes. When you do this, you set a broader strategic context for your partnering.
When you create your proposal, include options that will enable you to design and deliver a leadership PERFORMANCE TRANSFORMATION (not a leadership training.) Include value-laden activities such as:

You will provide the training experience PLUS coaching and mentoring of identified leaders.
You will provide the live experience PLUS follow up virtual mini-training experiences.
You will create a private Facebook page (or use your client's Sharepoint site) to answer real-time questions and challenges.

You will lead project teams through redesigning work processes to give leaders more time to be with employees.
You will guide the senior team through re-prioritization of initiatives.
You will create additional tools such as recognition programs to enable leadership excellence.

You will review current performance management processes and make recommendations for re-alignment.
You will oversee a measurement process that tracks to what degree leaders are delivering on performance expectations.
You will guide the team in measuring the overall results of the leadership excellence initiative and identify how results can be improved.
By offering additional value as listed above, you will quickly be able to turn a four-figure request into a five or six-figure consulting engagement.
Next Step
The OD Consultant's Toolbox is all about landing and delivering strategic consulting engagements that will make a difference for both your career and the organizations you want to help.
Ready to take your place as a sought-after, credible organizational consultant?
Click here to learn how to get my proven OD best practices, frameworks, and tools...at whatever price you can afford.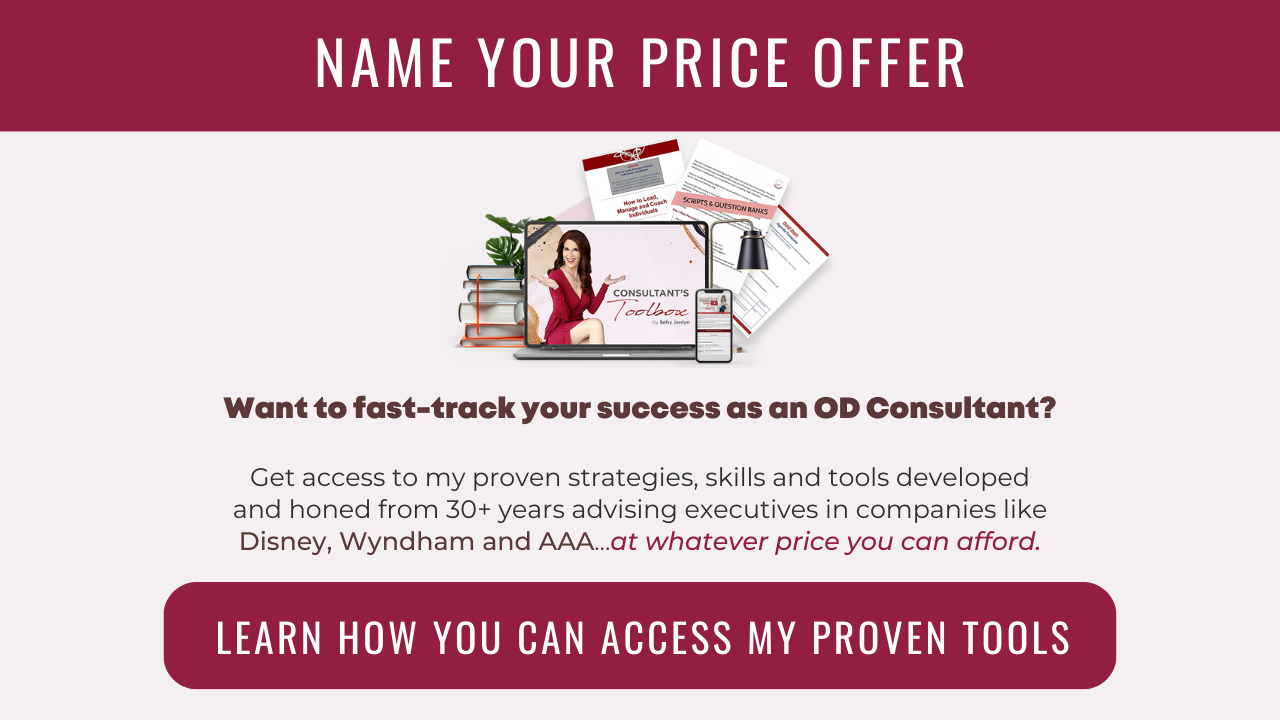 Let's Stay Connected!
Actionable inspiration, expert interviews and behind-the-scenes consulting and coaching secrets and best practices and SO MUCH MORE, delivered to your inbox for a weekly dose of entrepreneurial motivation!
We hate SPAM. We will never sell your information, for any reason.